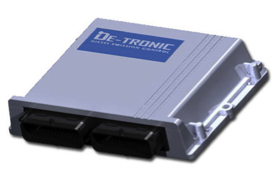 DE-Tronic is an Electronic Control Unit (ECU) designed to control the complete emission after-treatment system. It is a modular platform establishing the link between engine and emission reduction system.
DE-Tronic complies to the latest emission requirements (Euro V, Euro VI, Sage IV, Tier 4 Final, Stage V etc.) and it is suitable for both mechanical and common rail diesel engines, covering a very large range of applications from fork lift to tractors to heavy duty, big stationary engines (up to 7MW).
With annual sales of thousands of units since more than 10 years, today's 3rd generation DE-Tronic platform is a highly validated product.
The DE-Tronic software is the product of agile software development and follows the guidelines of AUTOSAR specification. This approach is well appreciated by our customers (OEMs and Retrofit) because it results in the right balance between time & cost efficiency vs software stability.
The main functions available today are:
Datalogging
DPF monitoring
DPF active regeneration
FBC dosing
SCR control

AUS32 dosing
SCR protection strategy

EGR control
ITV control
OBD (Euro V, Euro VI, Sage IV, Tier 4 Final, Stage V)
J1939 compliant
DE-Tronic PC interface:
DE-Tronic PC interface is a user-friendly windows program which can be used as:
Diagnostics tool
Calibration tool
End of Line tool
Summary:
Different access levels are managed and protected by means of a license key.
OE specification
Robust construction
User friendly Windows interface
Suitable for all engines and exhaust systems
Suitable for all on/off road applications
Euro V, Euro VI, Sage IV, Tier 4 Final, Stage V compliant
DE-Trace telemetry module
DE-Trace Telemetry Module is an on-board monitoring device which can broadcast and transmit the location, speed and emission parameters of the vessel. It is able to work together with sensors, dedicated dataloggers and ECUs which measure and log all required data on the vessel. All collected data is transferred to the Telemetry Module simultaneously and stored internally in the on-board data buffer.
The Telemetry Module acquires data from Engine ECU or any other analyzers via CANbus line connection and/or from analog inputs. It stores the data in an internal memory buffer.
When the GSM connection is available, it transfers all the collected data to the server.
Transmitted data is reachable via web access and can be visualized as online dashboard, graph, gauge. Moreover, full dataset can be consulted as a report.
Multronic web services can be reached via following link: telematics.multronic.be
Users can login with their Customer ID, Username and Password. Multiple users under the same company can login simultaneously from different locations and work independently.